Fall Exotica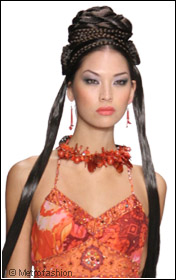 Fall
2009 is Sexy and Vibrant
Rich American
beauty colors mark the expressionism of Fall 2009 Fashion. Sultry
looks in
alluring deep blues, rose, and sumptuous creams and golds strike
a new vibe of practical elegance.

Photo ©Metrofashion. Sue Wong Fall 2006 Orange
Cocktail Dress with eastern motif.



Fall 2009 designers celebrate the right-sizing of American
luxury with nods to corseted shapes, one shoulder First Lady looks,
and watery ruffles.

Badgley Mischka creates a stunning midnight corsetted gown (see photo)
with expressionist skirt pattern that blends the New
York art scene with Parisian flair. Badgley Mischka 2009 Fall
Collection emphasizes the wearable luxury wardrobe of black wool career
styles mixed with easy satin cocktail dresses for dinner. (jump
below…)
Fall Exotica
(cont'd)

Matthew Williamson
teases with asymmetric chiffon and belted column evening dresses,
then pleases with space age sequin
seam looks in multi-metallics. Matthew Williamson Fall Winter 2009
2010 is an evolution of the artist's style leading to more futuristic
expressions.


Lela Rose has always offered looks for ladies and Fall 2009 New York
Collection carries on that tradition with a nod to to the vibrant
tones of the season. Blending grey tones in trenches and short dresses
with intricately patterned tweeds and accents of camel and royal blue,
Lela
Rose 2009 Fall looks appear conventional from a glance with intrique
when engaged. "That's so interesting," one might hear, and
in the same breath, "and exquisite."