Autumn Winter 2011 Mercedes Benz Fashion Week Berlin
Dark Palette Jackets from Kilian Kerner

Grey Ombre Suit Coat with Black Mini

Black Tunic Jacket with Montgomery Adornment

Black Tuxedo Style Trench and Matching Slacks
Copyright
Dan & Corina Lecca, Getty Images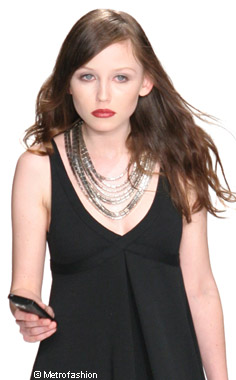 Where's
the Party?
Holiday 2009 is Demure Chic
After years
of flamboyant winter fashion and then a sobre 2008 season, holiday
evening gowns have returned to classic
shapes for 2009.

Photo ©Metrofashion. Imitation of Christ Fall
2007 Los Angeles Fashion Week




While social calendars are thinner this year, choosing the right dress
for Holiday will be even more important. At the recent Ruznak
Evening of Luxury at Universal Studios for LA Fashion Week, guests
were dressed smartly with an eye to monotone palettes and demure necklines.

Evening dresses in one
shoulder styles still take center stage, in a long run that started
in January with the U.S. Presidential Inaugural balls. Joining that
trend are ribbon bows and grecian collars, mostly in standard colors
like black,
royal
blue and crimson,
with rich purple
shades left over from Fall 2009.



The neckline or
upper bodice area is adorned with sparkling necklaces or jeweled embellishments.
Simple chic looks have evolved into pleated fronts, gathered busts,
and belted waistlines. Call it the intersection of party styles with
formal dresses; in any case, retailers are relieved to see very sellable
trends from the runways just in time for the last big party season
until March.