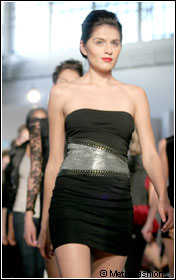 Seriously,
That's Cute
Cute Fall Styles Bring Back Party Attitude
While the colors of Fall Recent are on the seriously elegant side, the
cuts are progressive
and cute. Minis in traditional fall shades, revealing little black
dresses, and 60s
curviness are the rage again.

Photo ©2010 Metrofashion.com, Evening Styles from
Directives West at Los Angeles Fashion Week Fall 2010 Collections


Calvin Klein Fall
Recent Collection shows a modern take on the minimalist black &
white wardrobe, with extra long sleeves and exagerated seams.

Peter Som took the opposite interpretation, matching traditional fall
staples like metallic
skirts and tweed jackets with contrasting geometrics and brilliant
cosmic patterns.

Alexander McQueen's last collection was luxurious with a nod to the
woodbine
bridal accents of Fall Recent, and brocaded deep crimsons and golds.
Medieval in nature, the McQueen Fall 2010 woman maintains the youthful
attitude.
Fall
Looks from Rising Designers
Gen Art Los Angeles Event Featured Fall Styles from Alumni
Designers
Brown
Mini Dress with Matching Boots and Evening Bag
Fall
Green Bandeau & Peacock Skirt from Katy Rodriguez
Freddie
Rojas One Shoulder Sheer Evenging Dress with Bow